INSTRUCTIONS \ SY-1 \ Board 1
---
Board 1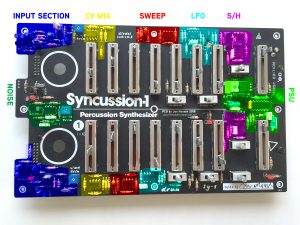 | | | |
| --- | --- | --- |
| | | CAPACITORS |
| 1 | x  | 100p |
| 2 | x | 22n |
| 2 | x | 33n |
| 2 | x | 47n |
| 3 | x | 100n |
| 4 | x | 10n |
| | | ELECTROLYTIC & TANTALUM CAPACITORS |
| 2 | x | 100n |
| 1 | x | 220µ |
| 2 | x | 100µ |
| 2 | x | 2µ2 TANTAL |
| 2 | x | 47n |
| 6 | x | µ47 |
| 4 | x | 10µ |
| | | SEMICONDUCTORS AND IC |
| 2 | x | 1N4148 |
| 1 | x | TL497 |
| 3 | x | 4069N |
| 1 | x | 220µH |
| 2 | x | 2N5485 |
| 19 | x | BC547 |
| 4 | x | BC557 |
| 9 | x | LM4558N |
| 1 | x | 7808T |
| 5 | x | LED3MM |
| | | RESISTORS |
| 1 | x | 1Ω 2W |
| 2 | x | 100 |
| 2 | x | 470 |
| 2 | x | 680 |
| 5 | x | 1k |
| 3 | x | 2k2 |
| 4 | x | 4k7 |
| 1 | x | 5k6 |
| 4 | x | 47k |
| 6 | x | 100 |
| 12 | x | 10k |
| 7 | x | 33k |
| 4 | x | 56k |
| 27 | x | 100k |
| 1 | x | 150k |
| 10 | x | 220k |
| 2 | x | 1M |
| | | TRIMMERS |
| 3 | x | 100k |
| | | POTENTIOMETERS |
| 6 | x | 100kA |
| 6 | x | 100kB |
| 2 | x | 500kA |
| 2 | x | 10kA |
| | | MISC AND HARDWARE |
| 1 | x | DC JACK |
| 2 | x | 7 x 2 Pin header |
| 4 | x | ON-OFF-ON Switch |
| 3 | x | ON-ON Switch |
Board 1 contains sliders and other front panel components. It also has the PSU, noise source, LFO, Sweep, and S&H circuits.
Suggested build order would be PSU, everything else and switches and sliders last.
The PSU outputs ±8V, where the plus side is just a normal regulator, and the negative portion is supplied by the TL497 and associated components. Check for the correct voltages (Good place to do so is over the two 100uF caps).
In the noise section don't install the 10k next to the noise trimmer. This to bring up the noise to a better level than the original 2.5Vpp. Use a normal BC547 installed as the legend as noisy transistor.
The rest of the board holds no bigger challenges. Though I'd recommend installing the pinheaded on the backside of the board at the finishing up stage. And as I said on the first page – The 470Ω resistor close to the LFO speed slider might have to be increased.
There's no problem in powering this board and testing the functions without the voice boards attached. Though the only things that can be tested are S/H, LFO and PSU.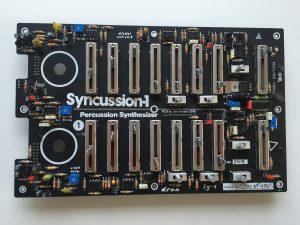 Finished bord.
---
人間のコンパレータ ©2014 www.thehumancomparator.net