INSTRUCTIONS \ TKB \ Finishing up
---
Finishing the TKB
In this part it's just final details, like mounting the touch keys and trimming the unit.
1, Mounting the touch pads.
Before doing any of this just double/triple check that no wires are shorting agains the panel and that everything is neat. Once the protective paper is of the tape it's too late to go back and fix stuff. The tape is super sticky so it's best to align and position everything first!
I use a small plier to peel of the protective paper on each pad, being careful not to let the tape stick to the panel – It might be a good idea to insert something between the touch pad board and the panel so it keeps it distance while you do this.
Once the paper is gone and you're satisfied with the position of the board just remove the stuff in-between and push down on the board to attach it to the panel.
IMPORTANT – DON'T FORGET TO HAVE THE SCREWS UNDERNEATH THE BOARD BEFORE MOUNTING IT!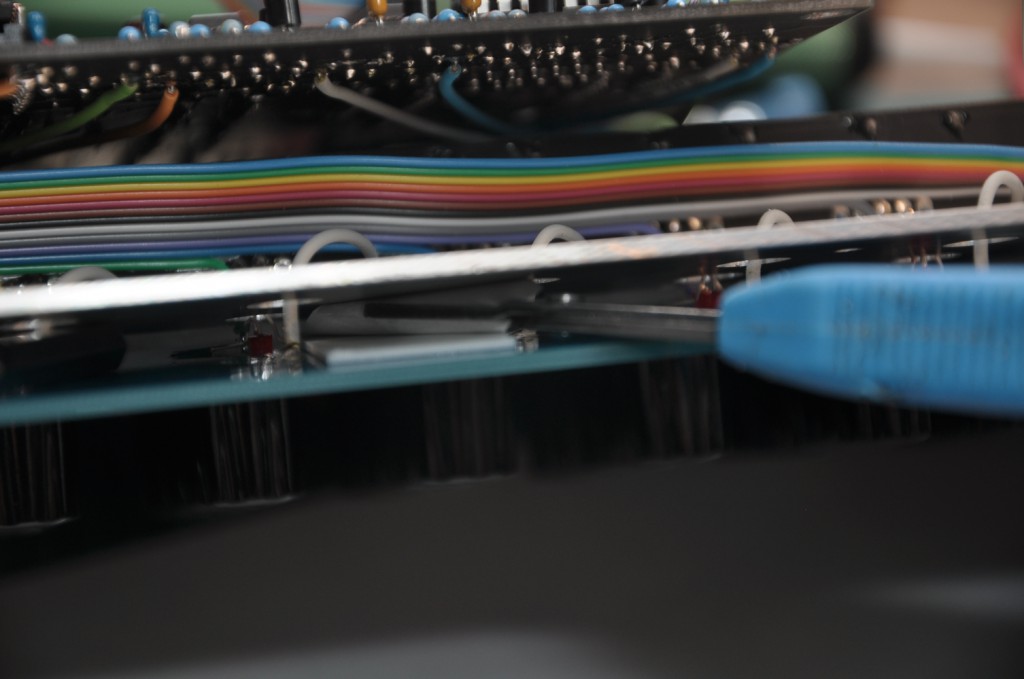 Peeling off the tape.
2, Trim
SENS – While holding down 1 pad adjust this so that the pad next to it doesn't flicker.
PRES – Set to taste. It goes from ultra-super-fast to super-fast. It isn't really pressure, it's the duration you're touching the keys measured in nano seconds…
If you have a box/boat for your panel you should now be able to mount your unit in it – And you're done! Happy sequencing!
---
人間のコンパレータ ©2014 www.thehumancomparator.net